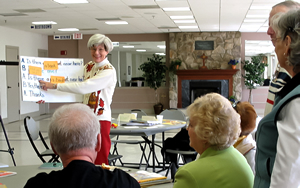 New and Returning Teachers
On an annual basis, ESLIM offers half-day or full-day training sessions for new or relatively inexperienced ESL teachers in person or online. These workshops are typically offered in late August and/or early September. These classes are taught by ESL professionals who have extensive experience in training ESL teachers (as well as in teaching ESL classes). Periodically, ESLIM also offers "Refresh and Renew" training to returning ESL teachers who want to upgrade and refine their teaching skills. Please see our News pages and our Facebook page for specific dates for training courses.
Cost
ESLIM Volunteers: There is no cost to volunteers who are part of the ESLIM network. Also, ESLIM volunteers will be given priority registration.
Outside ESLIM: Attendees from other programs will be admitted if space is available for a fee of $75/person per session.
Eligibility for Volunteer Training
New volunteers must submit our online application form before being registered for training. Please visit our New Volunteer page for details on how you can help ESLIM.